whenpigzfly.com
About the Rider
Bill Aviles

After nearly 32 years, Bill Aviles retired as a  Fire Captain from the City of Riverside Fire Dept. He has participated in several long distance competitions and traveled over large portions of the United States by motorcycle. He participates in many charitable events and causes.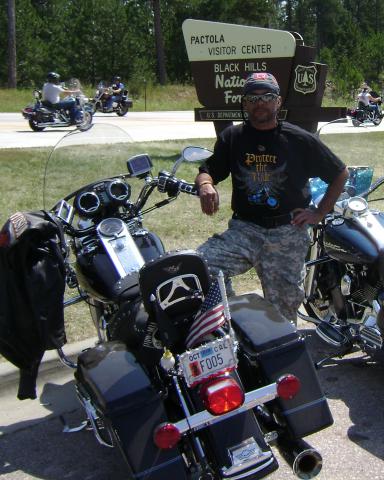 The Family Tradition of Service
Bill was named after his late uncle William D. Aviles. Private First Class Aviles was a member of the 19th Infantry Regiment, 24th Infantry Division. He was Killed in Action while fighting the enemy in North Korea on October 15, 1951. Private First Class Aviles was awarded the Purple Heart, Bronze Star, the Combat Infantryman's Badge, the Korean Service Medal, the United Nations Service Medal, the National Defense Service Medal and the Korean War Service Medal.
Other members of Bill's family also served in the armed forces including four uncles, his dad, 3 cousins, his brother and now his daughter. A strong commitment to community, public, and military service runs deep in the family. Olivia the youngest daughter is active in Murrieta Valley High School Marine Corp JROTC Unit and Hopes to attend the Naval Academy upon graduation.
The Ride
This year, Bill and his daughter Olivia will be participating in the Run For The Wall. The philosophy of the organization is to promote healing among ALL veterans and their families and friends, to call for an accounting of all Prisoners of War and those Missing in Action (POW/MIA), to honor the memory of those Killed in Action (KIA) from all wars, and to support our military personnel all over the world.
Departing on May 13th from Ontario California, riders from all over the country will be traveling to Washington D.C. via three different routes. Bill is participating in the Southern Route. The expected day of arrival is May 22, Memorial Day weekend.
Support and Assistance
As the start of the Run For The Wall approaches, so many great people and organizations have provided valuable assistance. First is DH Graphics for doing the awesome tribute wrap on the bike. Everyone who has seen it has given very positive comments.  Then Staff Sergeant Christopher Conely and Sergeant First Class Brandon Wingo, US Army Recruiting, Temecula CA for providing hand out materials, pins and pencils when we stop at several schools and community events during our trek. I'm sure more support and assistance will come through in the following days.